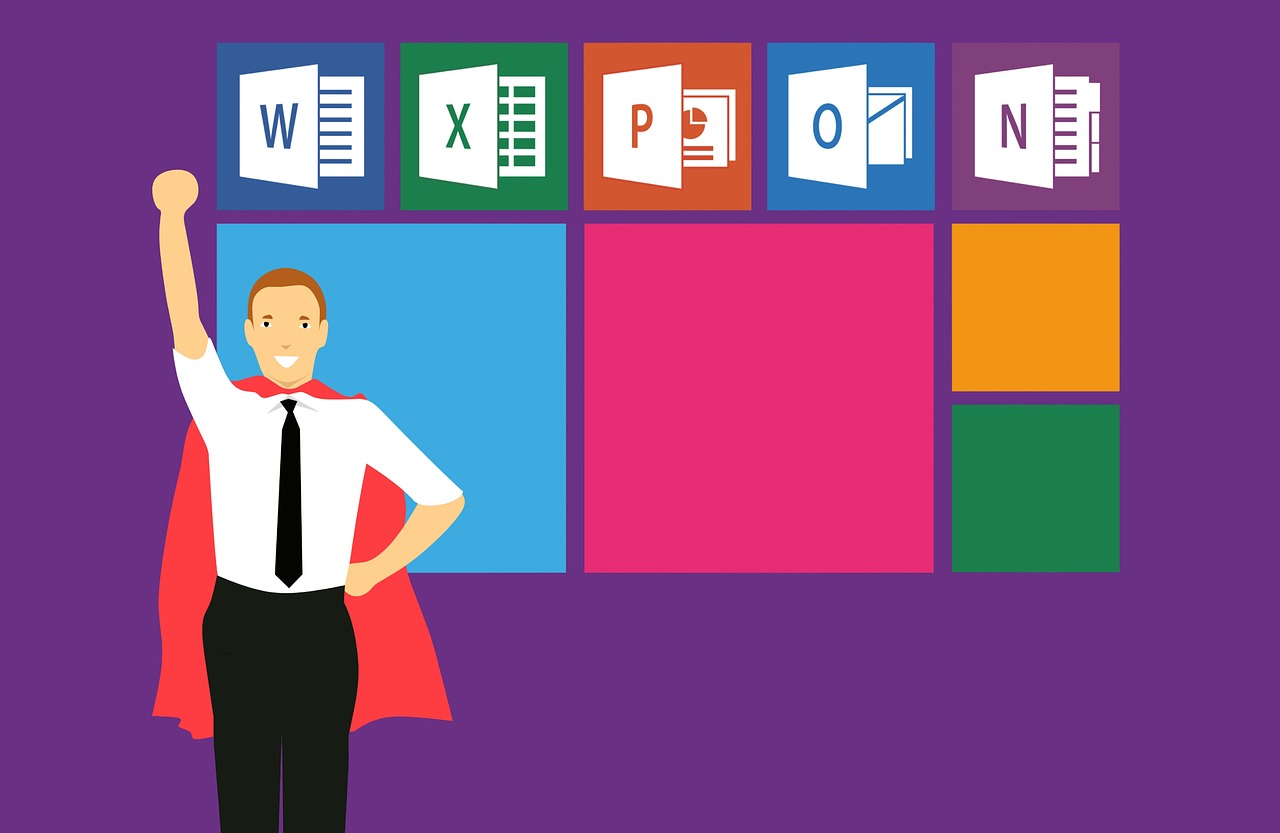 Why be a star in only part of your job? Here's how to be a smarter presenter when it comes to using PowerPoint!
Recently, I conducted a day-long workshop for a national group of anesthesiologists. These successful doctors were interested in improving their presentations to colleagues. Even they—experts at sedation—realized that they shouldn't be putting audiences to sleep.
If they recognize that risk concerning their talks, who are we to argue? Yes, I'm talking about the fact that we skate at the edges of that danger zone every time we use PowerPoint.
Here's your secret weapon for more interesting presentations: my Free cheat sheet, "5 Rules for Succeeding With PowerPoint." Download it now!
Below are some tips all of us can use for smarter presentations when we use PowerPoint. Please, keep reading. You have hordes of business presentation fans to gain!
You're Telling a Story With Your Deck, Right? ... Right?
In my work at The Genard Method, I've developed a system I call "Performing PowerPoint." There's nothing original about my idea that Bill Gates's tool has become a blatant threat to the practice of anesthesiology. That's actually not a criticism of this presentation tool. It is an observation that spoken performances using slide decks frequently miss the mark.
How important are your platform skills? They can matter as much as what you say! Learn more with my Free resource, "Great Speaking? It's About Performance Over Content."
Here's why: too many speakers are eager to turn over the success of their speech to PowerPoint. But as I've frequently, said, it's just a tool, the way a pencil is a tool. Were you ever turned on by how wonderfully a speaker used a pencil when writing out his notes?
It's our job to tell a story when we speak, and at the same time, take listeners on a journey. The presenter who does that while using slides for visual effect and efficiency, has a much greater chance of succeeding at her task.
Learn more about how to command a stage this way! Get my Free ebook, 12 Easy Ways to Achieve Presence and Charisma.
Three Ways to Use PowerPoint in Performance
So, here's a modest proposal concerning how you can "smarten up" your slide decks. Always bear this in mind as well: you are the influencer when you speak, not the tools you use—not even your data. It's your take on your topic, and equally important, your ability to connect with your audience to get it across, which makes them hungry to hear you speak.
1. Take Advantage of Prime Real Estate. Most presenters waste valuable space that's crying out to be used on slides. The idea behind this statement is this: slides are there to further your purpose not just to display information. Title slides is one way to do this, as they announce the next important segment. But an even more strategic approach involves your HEADINGS. Too often, they say things like "Agenda," "Survey Results," or heaven help us, "Questions?" Instead, ask yourself what this slide is really all about, and make your heading say that loud and clear.
Want to know how to engage and move audiences? Download my Free Presenter's Guide, "6 Rules of Effective Public Speaking." Add it to your speaker's toolbox today!
Be creative! Consider if you were in the audience, and a slide was headed "Subscriber Complaints," versus "I Hate This Product!" Which heading is going to grab your customer service team's attention, and set the tone for what you're going to speak about?
2. Tell Your Story, Don't Show Slides. Here again, as slide users, we're a pretty guilty mob. We use what I call the "Click-Talk" method. You've seen it hundreds of times: "Click!" "Here's a look at our sales results last quarter." "Click!" "Here are some projections about next quarter." "Click!" "Simon says take a giant step backward." Well, almost. — This is where my Performing PowerPoint technique shines, and here's how you do it: you make your narrative the basis of your talk (including its flow), and you bring in each slide at the moment it will have most impact.
In the above example, you might say: "We all know what last quarter was like. Yes, it's painful, but I have a point to make. Once again, here are the numbers" . . . Click! [Audible groans] "Now, what would you say if we could increase our profits by fifty percent? I've come up with a way. Here's what it looks like . . ." Now, I guarantee that everyone will be engaged, intrigued, and eager to see the slide you're about to show. Voila! Attentiveness rather than mass comas!
3. Use PowerPoint's Secret Weapon. That's the "B" button. Did you know that when you are in View mode, pressing the "B" button on your keypad turns every screen that is showing a slide black? What's the idea here? — It's to bring everyone's attention back to YOU. Use this technique when you want to foster a discussion (since the audience won't be looking at the last slide for the next twenty minutes), or if you see people's eyes glazing over because you've just shown 76 slides in succession.
It's also helpful to have your title slide displayed when attendees are entering a room, so they know they are in the right place (such as at conference breakouts). Then, hit the "B" button just before you say, "Okay, everyone, I think we're ready to begin." Remember, you are the influencer! Hitting the "B" button a second time reactivates the view. At that instant, two things happen: 1) your previous slide comes back, and 2) everyone thinks, "What a presenter!"
Discover 101 "Quick-Tips" for becoming a more dynamic public speaker! Click here or below to get my expanded public speaking handbook, How to Give a Speech.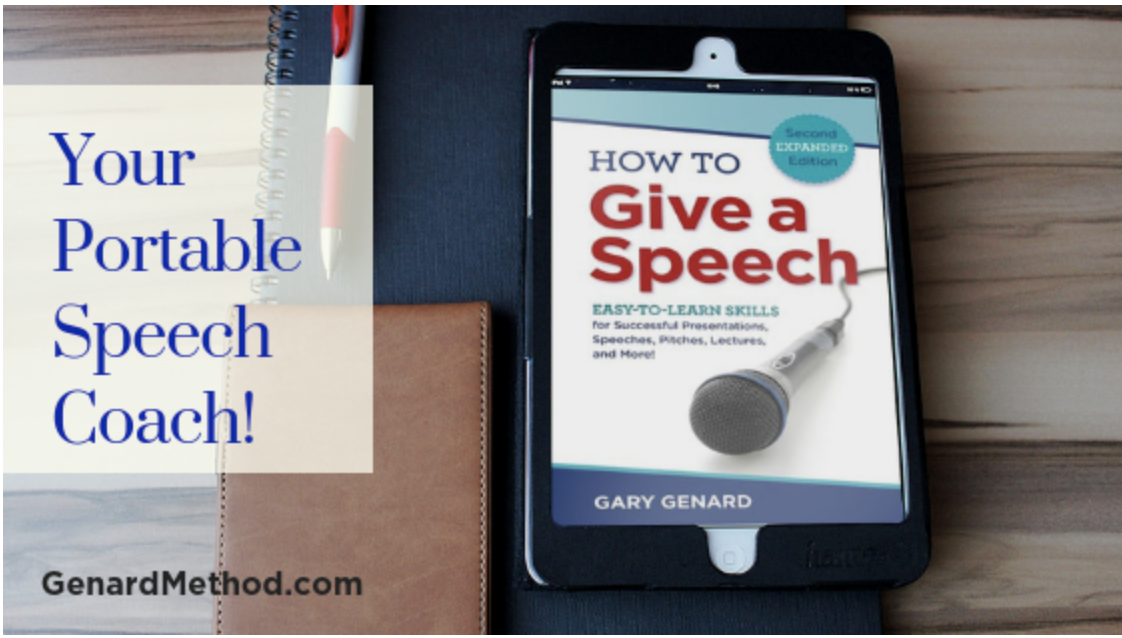 You should follow me on Twitter here.
Gary Genard is an actor, author, and expert in public speaking training and overcoming speaking fear. His company, Boston-based The Genard Method offers live 1:1 Zoom executive coaching and corporate group training worldwide. In 2022 for the ninth consecutive year, Gary has been ranked by Global Gurus as One of the World's Top 30 Communication Professionals. He is the author of the Amazon Best-Seller How to Give a Speech. His second book, Fearless Speaking, was named in 2019 as "One of the 100 Best Confidence Books of All Time." His handbook for presenting in videoconferences, Speaking Virtually offers strategies and tools for developing virtual presence in online meetings. His latest book is Speak for Leadership: An Executive Speech Coach's Secrets. Contact Gary here.
Photo credit: mohamed_hassan on Pixabay.