Presentation Coaching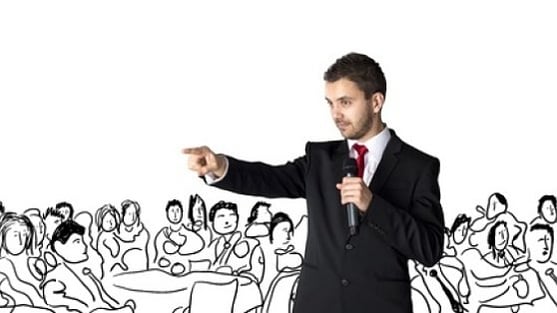 Live Zoom 1:1 video coaching for executives worldwide.


Performance Tools to Speak at Your Best!
Got an upcoming speech, pitch, presentation, job interview, or media appearance? Need to be more dynamic, persuasive, and engaging? Want to speak with greater stage presence for maximum influence? Can you make that kind of progress fast?
The answer is . . . absolutely, with The Genard Method's Presentation Coaching. Our remote coaching provides solution-based, personalized tools to help you perform at your peak. Discover performance-based skills for speaking with impact!
Online Coaching Options
Get ready for dramatic improvement with actor and speech coach Dr. Gary Genard's one-on-one private personalized coaching. Dr. Genard will show you how to build on your strengths while mastering performance-based techniques—the best in the world for moving audiences.
Presentation Coaching will help you nail your speech and make you memorable. You'll be on your feet, in videotaped practice with expert critiques and feedback on connecting with your audience. Contact us to get started working with Dr. Genard, named in 2020 for the seventh consecutive year by Global Gurus as one of The World's Top 30 Communication Professionals.
"I delivered the presentation today to get everyone excited on the new strategy, using the tools you taught me. Two things happened: People came up to me afterward and said how excited they were. Goal achieved! And one person on our leadership team said it was the best presentation they had seen me give. I just want to say thank you!"
Presentation Skills You'll Master
Along with your needs for a specific presentation, Dr. Genard may work with you to:
Launch your speech—the most crucial task ahead of you.
Shape your message to the needs and expectations of your listeners.
Increase your vocal power or soften an overly aggressive speaking style.
Create a compelling closing.
Master body language and facial expressions.
Improve your vocal expressiveness.
Interact with your audience easily and expertly.
Use PowerPoint skillfully.
Command the stage.
Tell stories and use metaphorical language—to make what you say come alive.
Handle Q & A, challenges, and push back.
Performance Qualities You'll Embody
Stage presence and confidence.
Calmness and 100% focus.
An audience-centered speaking persona.
Skill in using body language.
Concern with influencing minds over dispensing information.
A natural and conversational speaking style.
Displayed passion for your topic.
An ability to think on your feet.
"Gary has a mix of attributes that make him a very powerful speaking coach. First, he is knowledgeable having spent many years as a professional actor. Second, he is pleasantly disarming and has the ability to put one at ease almost immediately. Thirdly, he delivers critiques in the most incisive way. It is easy for one to hear, internalize and act on his feedback. I recommend him most highly."
How Can You Apply this Coaching?
Our versatile coaching can be applied to any of these speaking situations:
Pitches to clients, prospects, or investors
Sales presentations
Business meetings, updates, and panel discussions
Keynotes
Annual meetings
Job interview preparation
Toasts and awards ceremonies
Author book tours
Academic convocations and commencements
TED Talks
Media appearances
Political campaigns, debates, and press conferences
Call

(617) 993-3410

or contact us
to learn more.