Group Presentation Skills Training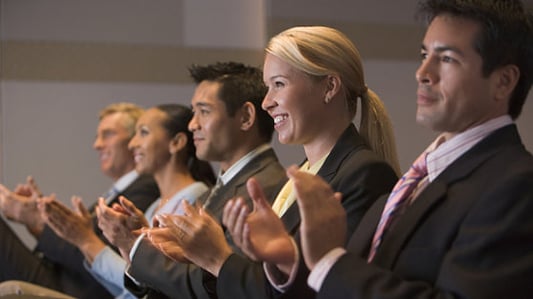 Speak at Your Best to stakeholders!
Speak at Your Best! is The Genard Method's one- or two-day on-site presentation training. This practical workshop empowers teams, departments, boards, business units, or your full staff. Develop the performance skills to engage, persuade, and activate stakeholders. You'll learn theater-based techniques to command the stage and deliver your message with impact.
Dr. Gary Genard provides your staff with a "speaker's toolbox" of best practices in communication for leadership. Learning modules are combined with videotaped presentation practice and feedback for optimum skills development. The two-day version of this workshop includes private 1:1 speech coaching sessions for attendees on Day Two. Training materials include Dr. Genard's Speak at Your Best! Workbook and his book How to Give a Speech.
Who will benefit
Speak at Your Best! is ideal for employees who are client- or patient facing, who speak at meetings, who market or sell on behalf of your organization, or who appear at conferences and industry events. (For our program for senior-level executives and teams, please see Voices of Leadership. For 1:1 executive-level speech coaching, see Executive Presentation Skills.)
"The "Speak at Your Best!" workshop allowed a room full of anxious presenters to learn valuable tools for delivering effective and engaging presentations. Dr. Genard's proven method for teaching speech presentation skills was extremely beneficial to our team. His small class size, use of examples, and video of presentations truly allowed each participant to learn how to be an effective presenter."
One-Day Group Workshop Agenda
Module 1: Creating Successful Presentations
Organization and preparation
Action goals and assessing your performance
Delivery skills: focus and presence
Presentation Gold: 6 Rules for Succeeding with PowerPoint
Module 2: Achieving Influence with Audiences
Analyzing your audience
Deciding on your specific purpose
Engaging your listeners
Leadership Skills: 10 Ways to Stay Fully Focused when Speaking
Module 3: How to Develop and Tell Your Story
Storytelling and using metaphors
Tailoring your content to your audience
Speaking with clarity and conciseness
Module 4: The 7 Components of Great Presentations
Greeting
Grabber
Launching your speech
Main points with evidence
Vivid and visual language
Transitions
Clincher
Module 5: Understanding Body Language
Audience perceptions: visuals, vocals, and content
5 Secrets of Powerful Body Language
Movement, gestures, and using space
Module 6: Vocal Dynamics
5 Key Tools of Vocal Dynamics
Power and projection: How to speak with authority
Using your voice to influence others
Bringing your content to life
Module 7: Handling Q & A and Challenges
The 7 Danger Zones of Q & A
Thinking on your feet
Dealing with resistance
Module 8: Speaking Virtually
6 Ways to Speak with Impact in Webinars and Virtual Presentations
Teleconferences and video conferences
How to conduct a successful webinar
Follow-Up and Ongoing Learning
Ongoing learning and post-course training is available through phone consultations and in-person meetings, Skype sessions, and review of video clips of your speeches and presentations. Clients also benefit from the insights in Dr. Genard's blog Speak for Success!, monthly newsletter, free learning resources, and publications.
Call
(617) 993-3410
or
contact us
to learn more.