Executive Presentation Skills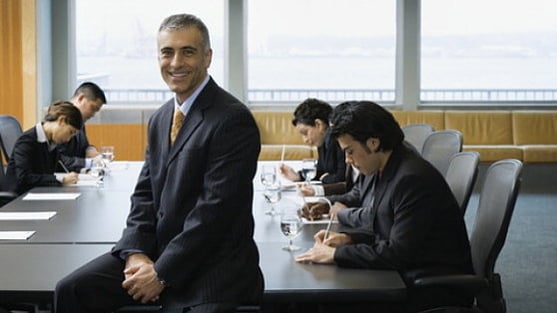 Live Zoom 1:1 video coaching for executives worldwide.


Improve your public speaking for business!
Are you maximizing your influence and personal brand? Your expertise has taken you this far. But now you're speaking on bigger stages or to key decision-makers. You need performance coaching to excel in the oral arena—the place where everyone sees and judges who you are. Executive Presentation Skills gives you the tools to excel in this high-visibility role.
You'll be coached by internationally recognized speech expert Dr. Gary Genard. Join top management who've received this coaching at multinationals, in healthcare/bio-pharma, finance, government, the United Nations, and emerging technology firms. Your personal program will be customized to your needs, goals, and speaking applications. Learn theater-based techniques that will transform your emotional connection and impact. Be the speaker people believe in.
Work with "One of the World's Top 30 Communication Professionals"* in face-to-face interactions, in-person or online!
* Global Gurus, 2014, 2015, 2016, 2017, 2018, 2019, 2020.
"I recently spoke at the White House as part of
the Global Connectivity Initiative for 2020. Your speech coaching has brought a new level of calmness, thoughtfulness and professionalism to my career. Thank you!"
Coaching Options: In-Person or Online
Executive Presentation Skills is offered as short-term instruction or long-term projects at our Greater Boston office or client locations worldwide. The course is also offered as an online coaching option featuring Zoom video sessions. All coaching features 1:1 private and confidential sessions with Dr. Genard. Visit this page for corporate and team training.
The course consists of 10 hours of private coaching. Choose from these programs:
Standard: Eight 75-minute weekly sessions. For Boston-area professionals.
Accelerated: Four 2.5-hour sessions. An alternative scheduling option.
Intensive: Two 5-hour sessions on consecutive days. From those outside MA or abroad.
Presentation Coaching to prepare for a specific event is available on a short-term basis.
The

ONLINE COURSE is offered as 10 live one-hour 1:1 Zoom video coaching sessions.
Following an assessment, activities and assignments will be customized to match your needs and goals. Materials include Dr. Genard's Executive Speech Coaching Handbook and his books How to Give a Speech and Fearless Speaking. Extensive videotaping of practice presentations with expert critiques and feedback is a core component of this course.
Course Syllabus
Module 1: Speaking for Persuasion
Analyzing your audience
Being clear on your purpose
Creating content to achieve that purpose
The C.U.R.E. Method of persuasion
Module 2: Developing Your Message
Writing vs. speaking
Using logic and language
Clarity and conciseness
Module 3: Breathing, Relaxation, and Focus
Diaphragmatic breathing
Calming your nerves
Stage presence and achieving 100% focus
Module 4: How to Start and End a Speech
The Grabber: Launching your speech
The Clincher: Ending vividly and memorably
Module 5: Voice and Speech Improvement
Vocal expressiveness: energy, pitch, pacing, and silence
Using your voice to influence others
Bringing your content to life
Module 6: Body Language
Stance, movement and gestures
How to command a stage
Achieving physical expression
Module 7: Achieving Executive Presence
Becoming a passionate speaker
Storytelling
Speaking with maximum focus and discipline
Using metaphors, comparisons and anecdotes
Proficiency with PowerPoint, notes, or a manuscript
Module 8: Handling Q & A and Challenges
The 7 Danger Zones of Q & A
Thinking on your feet
Dealing with resistance
Final Assessment and Follow-Up
Recommendations for continued individual improvement are provided at the end of the course. Follow-up and ongoing learning is available through telephone, Skype, or in-person sessions. You can also continue to learn through Dr. Genard's blog Speak for Success!, monthly newsletter, videos, free resources on this website and publications. Review and critique by Dr. Genard of your videotaped speech or presentation is also available.
Call

(617) 993-3410

or contact us to learn more.