Speaking Virtually TM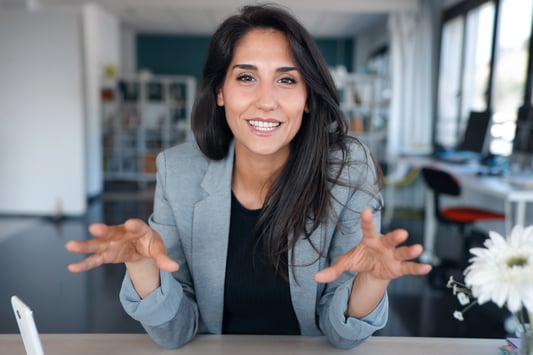 Live Zoom team training in online communication skills.
Today your team needs to speak with influence in a world gone virtual. The new reality of constant video meetings isn't going away. In fact, your staff is speaking online at least as much as they do in person. Virtual meetings are now the way you share vital information with customers, clients, colleagues, and prospects. Does your team excel at them?
Learn the "new rules" for team success!
Speaking Virtually TM is live Zoom-based team training in online communication skills. Led by actor and speech coach Dr. Gary Genard, these interactive workshops will help your team thrive in all virtual settings. From on-camera set-ups to personalizing a webcam to connecting conversationally, your team will learn and practice being at their best in the virtual environment. Techniques from Dr. Genard's book The Online Meetings Handbook are combined with individual live presentation practice including expert critiques and feedback.
Modules in the Online Workshop
Module 1:
Speaking Virtually
Developing self-confidence for virtual meetings and presentations.

How your team can look and sound at their best

Presentation skills in the virtual world

Speaking with warmth and personality to a webcam

'Think on Your Seat': Exercises for Speaking Under Pressure
Module 2: Achieving Influence with Audiences
Analyzing audiences to understand their needs

Deciding on your specific purpose

Building memorable presentations

Engaging meeting attendees online

Using body language when speaking virtually
Module 3:
Don't Present — Connect!
The 'oral arena' and understanding your job as a speaker

How to prepare an engaging and compelling presentation

Knowing your goals and assessing your performance

How to perform a slide deck effectively

Clarity, conciseness, and avoiding wordiness
Module 4: Living in the World of Your Audience
Becoming an audience-centered speaker and team

Meeting listener expectations and preferences

The 4 Steps to Creating Influence

Speaking emotionally to activate stakeholders

Storytelling techniques to reach diverse audiences
Module 5:
Logistics for Virtual Meetings
Camera height

Using body language in virtual settings

Lighting requirements

Why facial expressions matter

Presence, poise, and being ready
Module 6: Vocal Dynamics
Why (and how much) your vocal skills matter online

The 5 Key Skills of Vocal Expressiveness

Personalizing the camera

Building trust and credibility
And . . . live presentation practice with critiques and feedback!
Available online workshops
Speaking Virtually TM Zoom training with Dr. Genard is available in these formats:
Two-hour live interactive workshop.

Limited to 20 participants. Key learning modules and discussion with the entire group. Plus, breakout rooms where team members practice their pre-prepared presentations with critiques and feedback facilitated by Dr. Genard.

Two-day live interactive group workshop + individual coaching sessions.

Limited to 6 participants. Day One features the two-hour group workshop as described above. On Day Two, Dr. Genard conducts private 1:1 coaching with each participant for approximately one hour, including additional practice with screen recording. On Day Two, each attendee only has to attend their individual one-hour virtual session.
Looking for private coaching? For Dr. Genard
1:1 private coaching course
, see our
Executive Speech Coaching
.
Call
(617) 993-3410
or
contact us
to learn more.