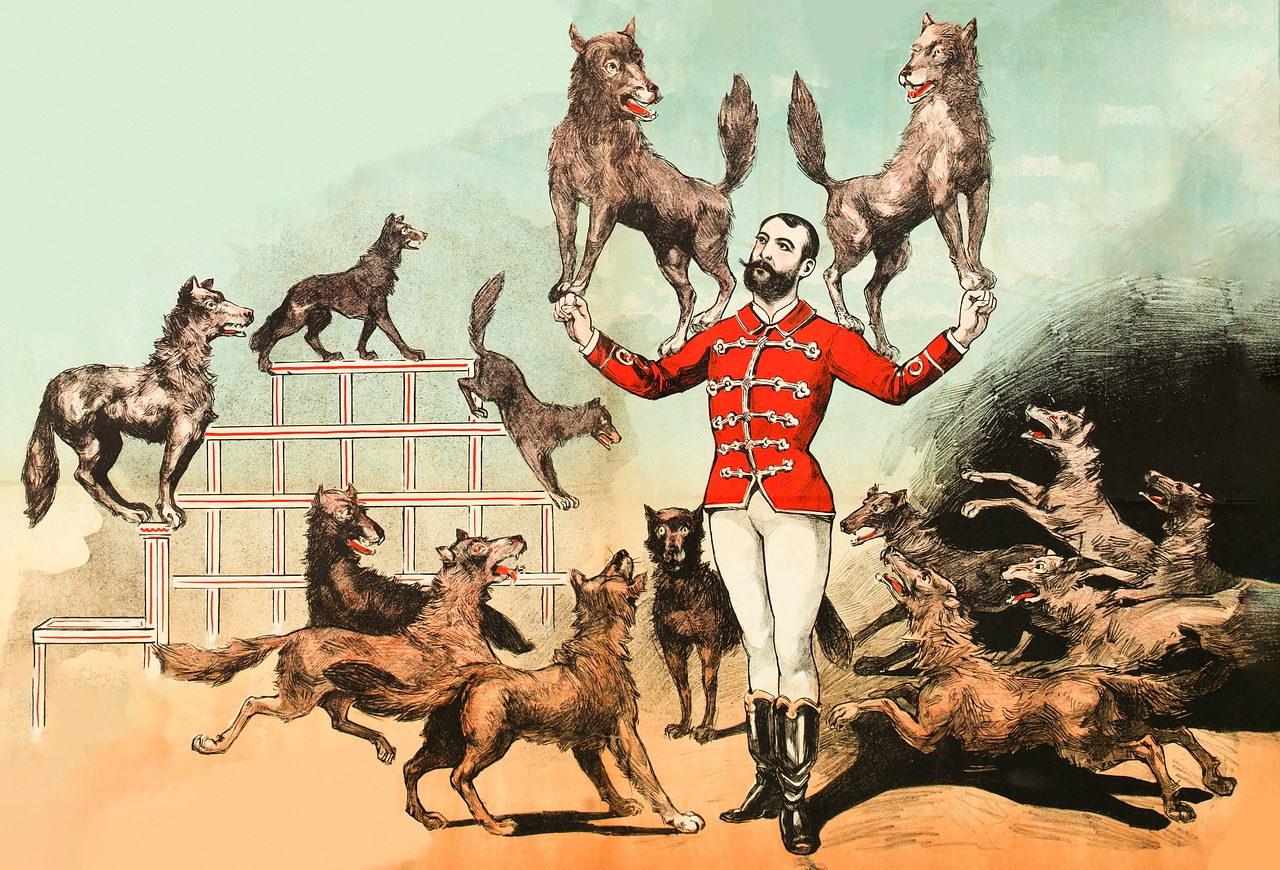 Do you know how to connect with audiences in presentations and speeches? Here are 4 key performance techniques for successful public speaking.
The reason we give speeches and presentations, reports at meetings, sales talks, campaign speeches—or present performing wolves acts—is to impact our listeners is some positive way. That includes everything from inspiring audiences to action, to getting them on their feet because they haven't experienced anything like that before.
Knowing that we have the ability to delight people in ways large and small should give us confidence and direction. In fact, it should make us eager to get up on our feet (or paws).
Do you know how to speak as a leader? Learn how to inspire your audiences! Download my new Free Tips and Tricks Guide, "The 7 Leadership Qualities of Great Speakers."
Below are what I consider to be the four actions on your part that are essential to achieving influence as a speaker. You should therefore include them in every one of your presentations:
Establish Your Credibility. You must have credibility in an audience's mind if you are to get listeners to think, feel, or do what you want them to as a result of your speech.
"Why in the world should I listen to this person?" is the ever-present question in listeners' minds. It's up to you to supply the answer. And fast: during the first 60 seconds of your talk.
To speak for leadership, you need to sound the part! Discover how in my Free Tips and Tricks Guide, "The Voice of Authority: How to Sound Like a Leader."
Tell them why they should listen to you—and I mean literally, tell them. What is your experience that allows you to speak on this topic? What's your job title? How long have you been working in this field (or pursuing it as an avocation)?
Did you conduct research that you'll be discussing in this presentation? Unless you're already famous, you must begin to build your credibility from the very first word out of your mouth. Being credible is what makes you worth listening to and believing.
Be Honest. Does that sound obvious? Actually, when we lack confidence in ourselves as presenters, we usually try to be something other than who we really are. We wear a mask, or slip on invisible armor to protect us. Worst of all, we try to be "as good as" someone else who is a successful speaker.
Are you self-conscious as a speaker? Doubt your own skills? Get my Free cheat sheet, "10 Fast and Effective Ways to Overcome Stage Fright."
But none of these solutions ever works, because listeners only pay attention when a speaker is being completely honest with them. Each of us is absolutely unique in the universe, and therefore interesting. It is equally as unproductive to try to hide from audiences as to sound like someone you're not.
To be influential as a speaker, then, show listeners your true self.
Connect with Your Audience. Always remember that when you speak, you are there for the audience's benefit, not your own. So you need to find ways to put yourself in their shoes so you can understand and meet their needs.
If possible, greet some of your audience members before the presentation. When you speak, continually look your listeners in the eyes. Some presenters are so nervous that they look over the heads of audience members. But isn't it easier to convince other people than the back wall?
Equally important: watch listeners' reactions. That way you can adjust what you're saying. For instance, it may be necessary to clarify a point if they seem confused, or to address what looks like resistance. Remember, you always need listeners to stay connected.
Want to know more about how to reach listeners like this? Download my Free Guide, "20 Ways to Connect with an Audience for Lasting Influence."
Think in Terms of Action. Most of us make a pair of mistakes when we give a presentation: (1) We tend to wrap our content around us like a safety blanket; and (2) We keep stepping out of our talking points to wonder (and wander) in our own minds about how we're doing as a presenter.
Although this is a natural reaction, it puts us 180 degrees from where we need to be in terms of influencing an audience. We should be paying attention to them, rather than gauging how we're coming across. After all, you should know your topic and who you are pretty well. When you're speaking, your objective is to clue the audience in on those two areas.
I mentioned at the beginning of this article that the reason we speak is always to influence listeners . . . not just to inform them. So again, think about what you want your audience to do as a result of your talk. Exactly how do you plan to change their lives positively?
Thinking that way will give your presentation real drive and relevance. It should also remind you of how much your speech really matters. And it will keep you from just running with the pack.
Now, go influence.
The above article is excerpted from my book, How to Give a Speech: 101 Easy-to-Learn Skills for Successful Presentations. Click here or below to get your copy!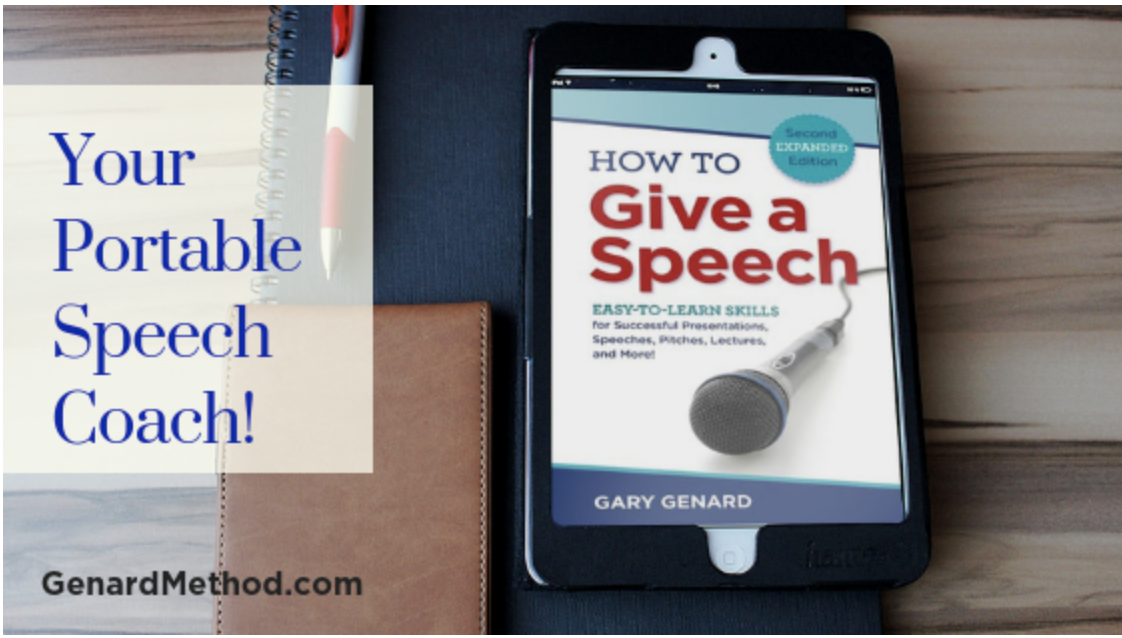 You should follow me on Twitter here.
Gary Genard is an actor, author, and expert in public speaking training and overcoming speaking fear. His company, Boston-based The Genard Method offers live 1:1 Zoom executive coaching and corporate group training worldwide. In 2022 for the ninth consecutive year, Gary has been ranked by Global Gurus as One of the World's Top 30 Communication Professionals. He is the author of the Amazon Best-Seller How to Give a Speech. His second book, Fearless Speaking, was named in 2019 as "One of the 100 Best Confidence Books of All Time." His handbook for presenting in videoconferences, Speaking Virtually offers strategies and tools for developing virtual presence in online meetings. Contact Gary here.
Photo by Prettysleepy on Pixabay