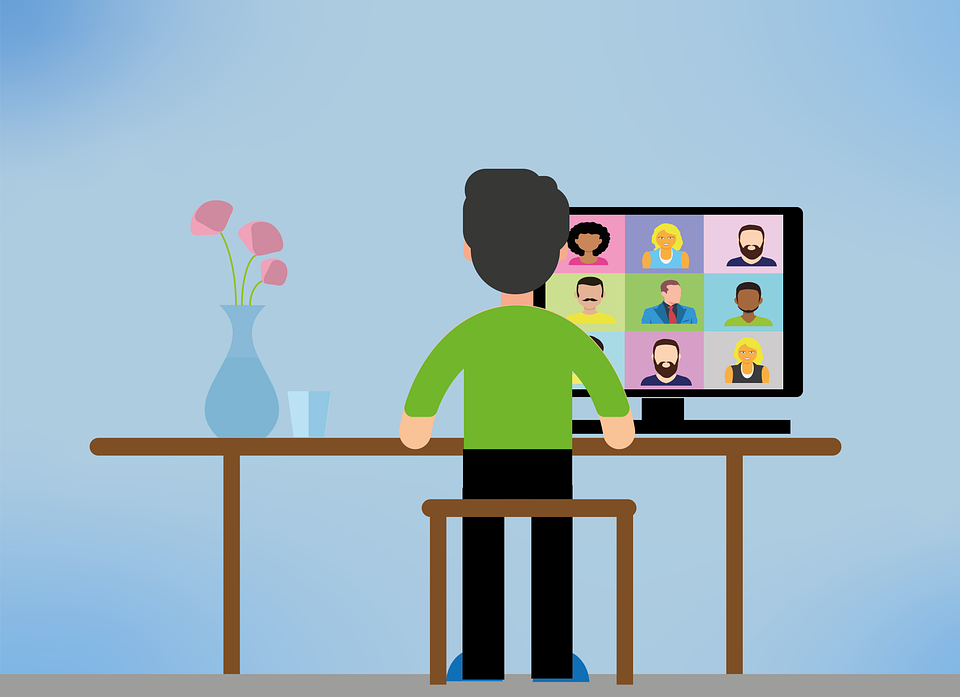 How are your video conferencing skills? Are you a charismatic speaker? Here's the secret of how to be more personable in virtual meetings.
Do you find it easy to be committed and enthusiastic to a camera?
Many of us don't. But in the Age of Covid-19, we're being called upon to try to accomplish that trick day in and day out. We're pitching ideas, giving important updates, speaking to senior leadership, and demonstrating our knowledge and professionalism in a myriad of other ways.
And we get to stare at an unblinking camera—that we can't even see!—while doing it.
Can you speak with poise and presence via Zoom, Google Meet, and Teams? Learn how! Get my Free e-guide, "Essential Speaking Tips for Video Conferences."
If you're at a loss as to how to accomplish this with charisma, I have a solution for you.
Bringing Your Real Self to Your Virtual Presence
As with all public speaking—along with acting—what you think and feel doesn't matter much unless you can convey it to the audience. The people watching and listening to you virtually are no different: they need to see and hear what's inside you if you're going to bring your true presence to the meeting.
Many of us make the mistake of thinking that the information we're conveying is accomplishing our purpose in a video conference. Delivering the data, conveying a complex idea, or explaining a bar graph all seem to be at the heart of what we're trying to achieve. But they aren't. If the content could do that on its own, why would we need to be present at all? Why would the meeting even be taking place?
It's you, interpreting and discussing the significance of the content that makes your appearance indispensable. That's what makes you a top performer when you speak in public. But how can you deliver that presence—your real self—by way of a webcam to people far away? You do it by personalizing that tiny, unblinking eye at the top of your computer.
Transform your ability to speak for leadership! Get my Free e-book, "High-Impact Speaking: The Leader's Guide to Presenting with Integrity and Influence."
How to Personalize a Camera
The challenge here is being a passionate and dynamic communicator when speaking to nothing but an instrument of transmission. And the paradox is, that it's more important than ever to do it when you're potentially reaching a worldwide, or at least company-wide audience.
Not to mention the possibility that your appearance will live online forever.
You need a way to make the cold, unfeeling camera eye into something you can relate to. Actually, someone that you can relate to. And that's what gives you the clue you need. You should ask yourself: "Who can I imagine I'm speaking to that I'd really like to do a good job for?" In other words, who is it that you'd like to say afterwards, "Joan, that was lovely. You spoke with genuine passion and vision. That's exactly how to sound like a leader. I'm proud of you."
Is that person your boss, a colleague, your spouse, your mentor, or wise old Uncle Murray? You decide. When you know who it is, imagine the camera is that person. You'll be surprised at how the real you comes through. Watch a screen recording and you'll experience all those things yourself, just the way your listeners have.
You should follow me on Twitter here.
Gary Genard is an actor, author, and expert in public speaking training and overcoming speaking fear. His company, Boston-based The Genard Method offers live 1:1 Zoom executive coaching worldwide. In 2020 for the seventh consecutive year, Gary has been ranked by Global Gurus as One of The World's Top 30 Communication Professionals. He is the author of How to Give a Speech. His second book, Fearless Speaking, was recently named as "One of the 100 Best Confidence Books of All Time." Contact Gary here.