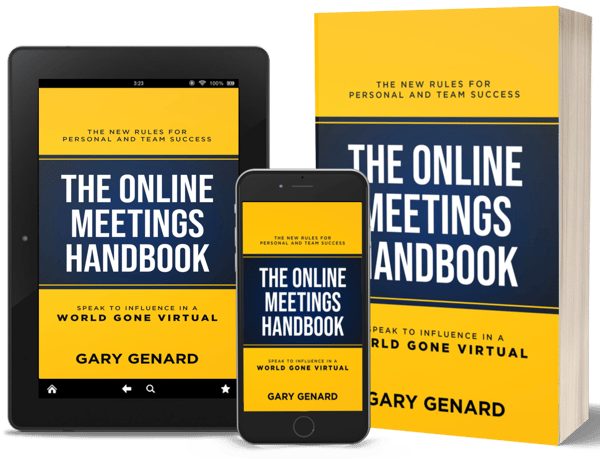 Your virtual presence is a key to success today. Do you excel in Zoom and videoconferences? Be at your virtual best with The Online Meetings Handbook!
We're all virtual now.
Have you caught your breath yet? The new reality of "a world gone virtual" isn't going away. Online meetings are now the way we share critical information with customers, clients, and colleagues. Do you excel at them?
Introducing The Online Meetings Handbook: The 'New Rules' for Personal and Team Success!
Discover how to own the remote space while staying ahead of the competition. Click here for more information and a free chapter!
The online universe offers unique challenges as well as limitless possibilities. So, why isn't there a hands-on guide to reaping the rewards of these virtual interactions?
Now there is.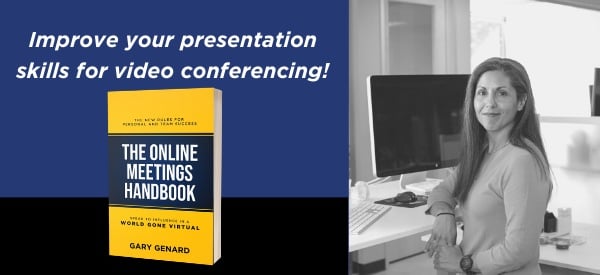 The Key to Succeeding in Zoom and Online Meetings
The business world has changed radically since last March. Whatever happens from now on, one truth is inescapable: videoconferencing is here to stay, in a bigger way than anyone anticipated.
Are you prepared and poised for that future?
Sure, like everyone else, your company leaped into online meetings via Zoom, Webex, Microsoft Teams, and Google Meet. At this point, though, there's a different question to answer: Are you and your teams performing at 100% of your capabilities in the virtual environment? If not, you need this book.
There's no doubt about it: today, you're selling your ideas online. More than that: you're selling yourself and your company. The Online Meetings Handbook is a manual for connecting with and influencing others in the virtual environment. Whatever your job is, right now that goal is as important as anything else you achieve. That's why I believe this is as timely a book as you'll find when it comes to improving your (and your team's) online communication skills.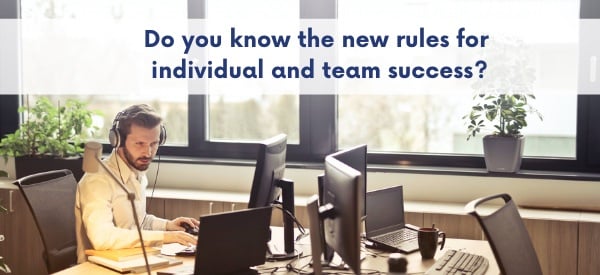 How's Your Virtual Persona? — It Has to Perform!
Suddenly, your business depends upon your success on the small screen. To command that screen and positively influence others, you need a new virtual persona. And there's been no time or training to help you develop one.
That's what The Online Meetings Handbook is all about. I wrote it as a performance-based guide for individuals and teams in the virtual environment. It reveals techniques you won't find anywhere else, backed up by my career as an actor and speech coach of professionals worldwide.
Want to read a sample from the book? Click here to download a Free Chapter. Learn the "new rules" for personal and team success in the virtual age!
What You'll Find in the Book. The tools and techniques in this book will a) help you look and sound at your virtual best, b) improve your presentation skills and on-camera effectiveness, and c) strengthen your online presence. (As just one example, do you know how to speak with warmth and personality to a webcam?)
You'll find 25 concisely written chapters to help you boost your confidence, skills, and influence. You'll learn practical tools for every aspect of virtual speaking—from presentation skills in the virtual environment, to body language for video, to handling tough questions and pushback.
The techniques in this book work equally well for individuals and teams. They had better do so. The need to succeed online is truly "virtually" the same for you, your colleagues, and customers.
This is the way we communicate now. Are you ready to be at your best by learning the new rules? Get them today on Amazon!
You should follow me on Twitter here.
Gary Genard is an actor, author, and expert in public speaking training and overcoming speaking fear. His company, Boston-based The Genard Method offers live 1:1 Zoom executive coaching and corporate group training worldwide. In 2020 for the seventh consecutive year, Gary has been ranked by Global Gurus as One of The World's Top 30 Communication Professionals. He is the author of How to Give a Speech. His second book, Fearless Speaking, was named in 2019 as "One of the 100 Best Confidence Books of All Time." His latest book is The Online Meetings Handbook, now available at The Genard Method and on Amazon. To know more about TGM's services, Contact Gary here.