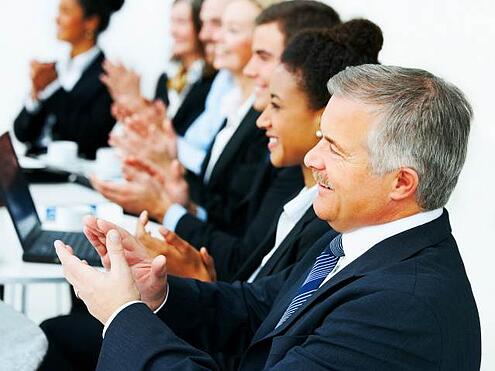 Want to get better at persuading and activating audiences? Try these 5 techniques to become a public speaker who stands out from the crowd!
If your message matters, your presentation has to be memorable.
It's as simple and challenging as that.
Yet how many of us who speak as business executives, salespeople, social service providers, lecturers, and all of our professional roles meet the burden of engaging and inspiring our audience?
Go beyond delivering information to inspire and activate listeners. For true influence, you need to connect with stakeholders and get your message across with laser-like focus. To become that type of compelling speaker, download my essential cheat sheet, "4 Characteristics of an Influential Speaker."
Think Different? For Effective Speaking, Be Different!
The truth, of course, is that most speeches and presentations are exactly like all the others in that field. Speakers feel safe that way. Unfortunately, such presentations condemn audiences to Presentation Purgatory—where PowerPoint is the preferred instrument of torture and time stretches on to the crack of doom.
Don't send your important audiences there!
Need some help understanding the expectations and preferences of your listeners? Learn why you should conduct an audience analysis for business presentations.

How to Be an Original Public Speaker
If you have an important message (and if you don't, why are you giving this presentation?), you must find a way to make your vital points stick in the minds of your listeners. Another way to say this is: For your ideas to stand out, you must stand out. Don't be afraid to make a splash, to be different! Whether in advocacy, sales, or motivational speaking, breaking away from the pack can be a tremendously helpful leadership skill.
As the first steps along the road to inspiring listeners, below are 5 effective ways to be a more original speaker that I've gleaned from my years as an actor and speech coach. Try any of these the next time you're slated for a speech or presentation where you want to make an impression. (Note: you don't necessarily have to include all of them in the same presentation!)
Think about how this topic has been dealt with in the past. Why did previous speakers handle it that way? What advantages or disadvantages did those approaches have? If a previous approach wasn't particularly successful, can you try something different instead? How can you be an original presenter who taps into the particular strengths of public speaking? Here are 3 secret ingredients of crafting a great speech.
Try "suspending your expertise." Imagine that you're brand new to your business or field. Look at the problem from a neophyte's point of view. Issues which were too close and familiar for you to see clearly may come sharply into focus for the first time.
Make your presentation more hands-on. Come up with some interactive exercises for listeners. To many audience members, this will be a revolutionary concept. So, invite them to revolt!
Elicit audience responses. How can you "shake up" your audience's notion that they can be passive observers? Make it clear that passivity will not be allowed during your presentations. Ask questions . . . and expect answers. In other words, for public speaking success, you should know how to ask the right questions in your presentations.
Eliminate barriers. Consider every obstacle—technological, physical, or emotional—that can come between you and your listeners. Examples include a lectern, seating arrangements, and failure to establish common ground. Which of these (or others) can you eliminate?
You may not be a speaker who's willing to break out in radical new directions, and that's fine. But once in a while, try a different path to your destination.
Whatever happens, it should be an interesting journey for all concerned.
You should follow me on Twitter here.