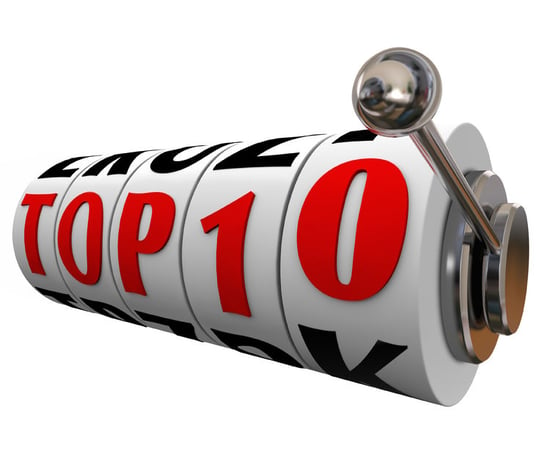 Looking for an edge in your upcoming speeches and presentations? Check out my most popular blogs of the past year. Speak with success to any audience!
What a year it's been! Brexit and Trump have shaken the political order, and a new demographic alignment may be underway in the U.S. We've heard raucous and raw political debates—too many actually—and the nerve endings of our nation have never seemed more exposed.
Along with these momentous events, we've listened to the usual crop of speeches, presentations, conference panels, meeting updates, pitches, and the conversations that are essential to doing business and getting things done.
Were any of those you experienced memorable?
Are you creating the level of impact you're aiming for in your own presentations? Your job isn't to just share information with listeners. It's to positively influence the people in the room. Whatever your message, your performance skills are always on display! Go beyond delivering information to speak memorably with my free cheat sheet, Leadership Skills: The 5 Essential Speaking Techniques.
Countdown: 2016's Top 10 Public Speaking Blogs
I hope you've heard some wonderful speeches over the past year: in person, online, on video clips, television, movies, or anyplace else. Every year at this time, I share with readers my most frequently viewed blogs. By that measure, these are the articles people found most helpful. If you haven't yet read any of these pieces, I hope you'll find something useful in the recap below. I've provided links so you can easily find the blogs themselves.
So here are the Top 10 "Speak for Success!" blogs for 2016. As always, I'll start with the 10th most popular blog, and move up to #1.
#10. "How to Go from Nervousness to Stage Presence in One Easy Lesson" (August 28)
Do you play defense too much when you present? Nervous speakers sometimes build a house of cards when they speak: a structure built as carefully as possible so nothing can go wrong. But that's not the way to wow an audience! Instead, learn how to gain credibility and charisma as a speaker. This article shows you how to do it quickly and reliably.
#9. "PowerPoint Magic: How to Be a Disruptive, Powerful Presenter" (November 6)
Had enough of static, overloaded PowerPoint presentations? Sure you have—and you want yours to be different, right? Instead of working up coma-inducing slide decks, your job is to create excitement. You do that my making your story the primary element of your PowerPoint talk, using powerful visuals, and getting to the heart of your message fast. See for yourself how you can create magic with a PowerPoint performance.
#8. "How to Build Your Confidence for Public Speaking" (January 7)
Think of the speakers you admire in business, politics, social settings, or on the TED stage. Were any of them not relaxed and confident? Too many speakers only pay attention to their content, not how they're going to deliver it. Discover these four techniques for reaching and moving listeners when you speak in public.
#7. "5 Ways to Captivate Any Audience and Speak with Charisma" (February 14)
You have something important to say, don't you? And you'll be speaking to an audience that needs to hear it? If so, you'd better learn how to achieve some stage presence. Why take the chance that your talk will sink out of sight along with the hundreds we all hear every year? Here are some performance techniques that will take your presentations far beyond the ordinary.
#6. "Speaking as a Leader: 12 Ways to Command a Stage" (March 27)
Leaders speak, and speakers lead—and when you deliver a presentation, you're playing both sides of the equation. Whether you're contributing at a team meeting, presenting in a boardroom, or delivering a conference keynote, if you're the one speaking, you're leading. Or you should be. Discover these 12 ways of broadcasting leadership in everything you say and show your audience.
#5. "Are You an Average Public Speaker? — 6 Ways to Speak to Impress!" (May 8)
Listening to a conference keynote this year, I thought: "This speech is perfectly fine." But that's not good enough if you believe that a speaker's job is to change people's lives. So, here are 6 ways to go from average to exceptional as a speaker. Because isn't part of your job to be as memorable as the information you deliver?
#4. "How to Build a Presentation: The 7-Step Method for Speaking with Influence" (April 3)
You're knowledgeable, passionate about your topic, and committed to delivering value. But do you know how to move an audience to achieve real impact? Whatever message you're delivering won't resonate with audiences unless it's clear, logical, and uses language effectively. Learn how it's done. Discover my 7-step approach to building powerful presentations.
#3. "Silence Is Golden: How to Use Pauses Effectively in Public Speaking" (February 21)
This one's a personal favorite, since it's purely about performance. Did you ever consider what a powerful tool silence is in public speaking? Using pauses and employing the power of silence is one way to raise your presentations from the mundane to the exceptional. Truly, if you want to reach the next level as a public speaker, you need to learn the four ways silence will add power and eloquence to your critical messages.
#2. "An Acting Technique to Dramatically Improve Your Public Speaking" (January 17)
Are you as dynamic as you'd like to be when you deliver a speech or presentation? Do audiences sense your authority? Just as important, do your listeners feel that they're in the hands of a seasoned performer? When it comes to the art of spoken performance, the techniques of the theater are your invaluable key. Acting isn't about doing anything—it's about believing. Here's an actor's trick for making your talk come alive for you, so your every performance soars.
And my top public speaking blog of 2016:
#1. "How to Think on Your Feet: Two Exercises For Speaking Under Pressure" (July 10)
Need to think on your feet and stay poised when you're under pressure? You bet you do! And is there anything that brings more pressure than high-profile, high-stakes public speaking? You might say that the best way to arm yourself is to prepare as much as possible in terms of content. But much more is going to be expected of you when challenges and push-back come your way. Here are two of the best exercises you'll ever find for speaking at your best when you're in the pressure cooker.
Here's to great performances in 2017. Feel free to subscribe to this blog via the button below. Be sure to watch this space for more tips, tools, and techniques you can use to inspire your audiences . . . and move them to action!
You should follow me on Twitter here.