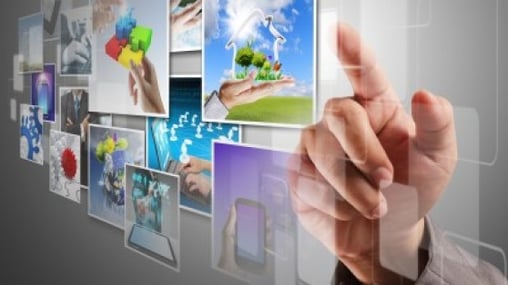 Do you use PowerPoint?
Want to establish strong credibility and give a powerful presentation while doing so?
If you do, here are two suggestions for using Microsoft's ubiquitous presentation tool. Both of these techniques depend upon "the power of one." (To speak powerfully and engagingly while using PowerPoint as few presenters do, download my free guide, "5 Rules for Succeeding with PowerPoint.")
Using a Single Slide
Recently, a sales team I was hired to train informed me that when they present individually, it's often to only one person, or up to a maximum of 3 people. They also told me that they might use PowerPoint minimally or not at all. Clearly, this team needed a solution that differed from the standard format of a PowerPoint deck with many slides, delivered to a group.
This realization wasn't far afield for me, because one of the things I tell my speech coaching clients and trainees is that it pays to consider whether PowerPoint is necessary at all in a given presentation. Or as I often put it: PowerPoint is a tool that is virtually guaranteed to reduce your influence as a public speaker.
Too many speakers believe the opposite, however: that a PowerPoint deck will carry the day in terms of influencing an audience. But slide decks never convince anybody. You as speaker do that. A vast array of slides will usually only deflect attention away from you, distance your audience from you, and often reduce the impact of your message.
Just after my conversation with that sales team, I ran across Michael Angelo Caruso's online article "How to Use Only One PowerPoint Slide" at dBusiness.com. (You can find it here: http://www.dbusiness.com/Blogs/Annual-2011/How-to-use-only-one-PowerPoint-slide/) Imagine how I felt, then, when I read this passage:
Why spend all that time, money, and energy getting team members or prospects into a room only to say, "Please look away from me to the screen, while I turn down the lights."
By not using PowerPoint, you can establish rapport, build relationships, and become a much more effective communicator.
Exactly! Mr. Caruso also talks in this piece about using just one slide to achieve maximum visual impact for your message. The slide he uses as an example is one with a powerful personal resonance for him. You needn't follow that prescription precisely. But the use of a single powerful slide is an approach well worth remembering, since it may help keep your audience engaged and attentive, rather than distracted by too many data-heavy visuals.
Presenting to One Person
What about when you're presenting to only one person, or at most a trio of listeners? The chances are very good that in a situation like that, you'll be sitting across a conference table from your listener(s), in a much more intimate setting than a typical presentation to a group.
Such a setting calls for some fine-tuning to your presentation style. I saw this recently in an executive speech coaching session I was conducting with one of my clients, a public relations executive. This gentleman was quite soft-spoken in one-on-one conversations. But his "PowerPoint performance mode" was entirely different, and as it happened, inappropriate for the presentation he was giving.
The talk he wanted to practice was one he'd be giving to the head of a department in his firm. It would be to just that one executive, sitting across a conference table and using printed PowerPoint slides. His resulting performance, however, was outsized: too loud and too "brassy" for this intimate setting. His quiet demeanor disappeared, along with much of his warmth as he loudly went through his deck—altogether a presentation style suited for a much bigger audience in terms of numbers and distance.
What had been lost was conversationality. And whenever you present to a single person or a small group, that's the speaking tool you need above all others. Rather than "give a presentation," simply talk to your listener. Here are 5 Key Tools of Vocal Dynamics to help you do so effectively.
You'll not only communicate more easily, you'll be at your most persuasive and likable. And that's a skill worth many PowerPoint slides indeed.
Key takeaways from this blog:
Ask yourself whether you need to use PowerPoint, or just talk to listeners.
A single slide, or just a few, can carry great weight and impact.
You as speaker are always the primary influencer, not PowerPoint.
If you present to just one person, remember to stay conversational.
Just "talking," not presenting is a way to remain persuasive and likable.